Baritone Sax-oboe in Eb, Cabart,the only known example.
Welcome to OBOES.US.
A Division of Olympic Carillon, Inc.
My passion is playing and collecting oboes, oboes d'amore, English horns, Heckelphones, saxophones, and related wind instruments. I often sell oboes, English horns, and an occasional saxophone from my collection. I thoroughly enjoy the process of matching musicians (from beginner to professional) with instruments.
I am always glad to help with any questions you may have about anything related to the oboe family. Consultation is always freely offered.
Almost all of the instruments I offer for sale from my collection have been meticulously overhauled, with new cork pads throughout, nylon tips installed on all of the adjustment screws, keys swaged and fitted, and re-voicing as necessary. Any oboe I have listed for sale on consignment will be in first class playable condition before being sent out.
I also at times buy oboes and English horns outright - please ask.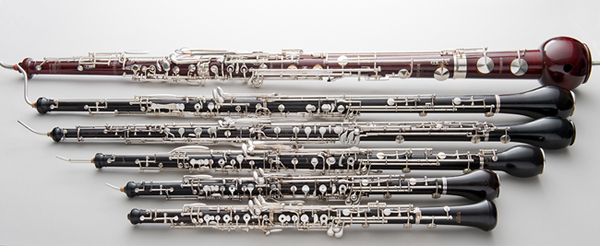 From top to bottom: Heckelphone, Loree bass oboe, Cabart baritone sax-oboe in Eb,
Puchner English horn, Loree oboe d'amore, Hiniker oboe